What is tricot fabric?
Tricot fabric is a very thin smooth textured wrap knit. The word Tricot is derived from the french word 'tricoter' (in pronunciation the-ko), which refers to knit.
Tricot fabric is used to produce special clothing such as underwear and lingerie products. It has a unique weave that makes it smooth on one side while sporting texture on the other.
In this article, we will discover some basic facts about tricot fabric, what is made of, and what material is used, and so on.
Tricot Fabric Types
Inside Brush (Heavy Weight) Tricot:
Inside Brush Heavy Weight Tricot is Used as Main fabric (180-300 GSM) in Tracksuit, Sportswear.
Normally it is wrapped knit, The brush effect inside comes from a finishing process that uses brushes one side to raise the fibres in fabrics. Raising a nap or strabs produces a fuzzy or downy surface. That's why brushed fabrics have a softer feel.
This novelty of inside brush textured tricot is good to use in the automotive industry.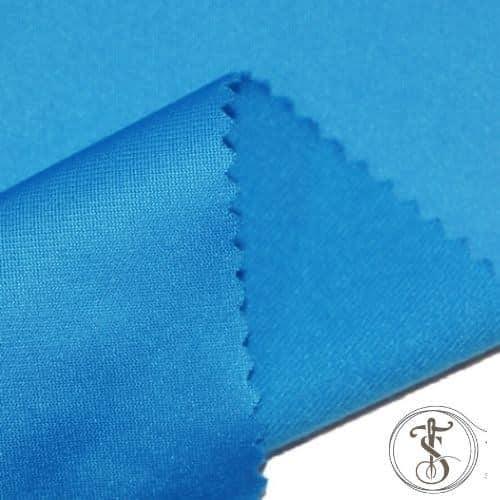 Inside Brush Lightweight Tricot:
Inside Brush Lightweight Tricot is Used in Linning, and Pocketing; doesn't use as the main fabric.
Inside Brushed lightweight tricot fabric used for reusable packaging is a soft liner material. Inside brushed Tricot offers numerous advantages. Its inside brushing effect is a finishing process that uses brushes and other abrading devices to raise the fibres in fabrics. Raising a nap produces a fuzzy surface. Therefore brushed fabrics have a softer hand feel inside.
Inside Brush Lightweight Tricot is Use as Lining - Light GSM.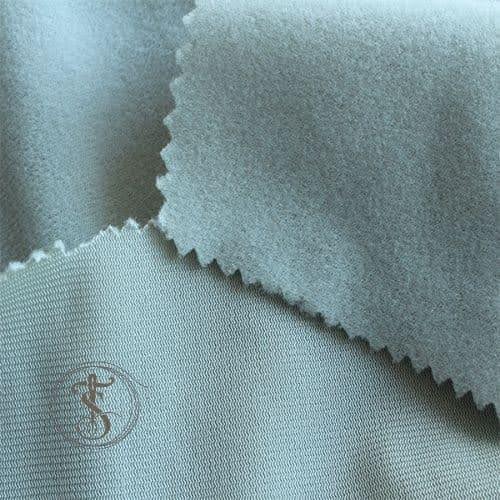 Non-Brush Tricot:
Non-Brush Tricot could be Lightweight or Heavy GSM. Poly Spandex is used for non-brush tricot to produce sportswear, and activewear.
It could be used as Main Fabric/ Lining Fabric. Used in athletes' sportswear.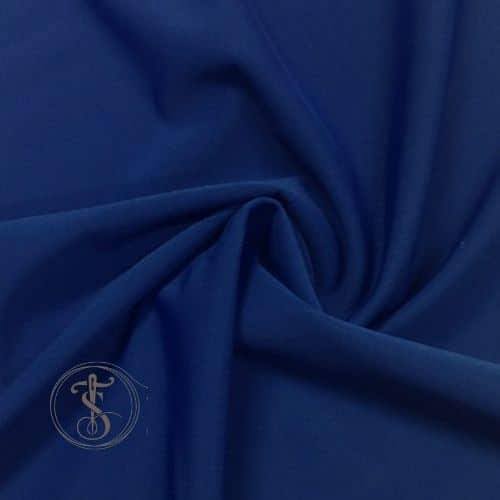 What is Tricot Fabric Made of?
Tricot fabric is a special warp-knit fabric made from filament yarn with a close inelastic knit. Basically, it's made with fine or single yarns. Tricot could be produced from natural and synthetic fibres. Tricot fabric is made from a combination of fibres and fiber blends. Often it is produced from a blend of natural and synthetic fabrics.
Tricot fabric is commonly made from synthetic fibres such as acetate, nylon, polyester, and tri-acetate. Though the base fiber is mixed up for stability and flexibility, with nylon and spandex, respectively. Elastane could be mixed in the fibre blend to add stretch. Natural fibers such as cotton, wool, and silk are less preferable. But Tricot could produce a natural fibre blend with other synthetic materials to create wonderful tricot fabrics.
How is Tricot manufactured?
Tricot is a special plain warp-knit fabric. It is produced with a close-knit design, with the fibers running lengthwise. It forms vertical whales on the surface and crosswise ribs on the back of the fabric. Its unique zigzag weave texture allows the fabric to be very comfortable and soft for innerwear. These tricot productions are executed in the tricot knitting machine. This tricot knitting process produces a soft and flexible fabric that doesn't snag or run easily.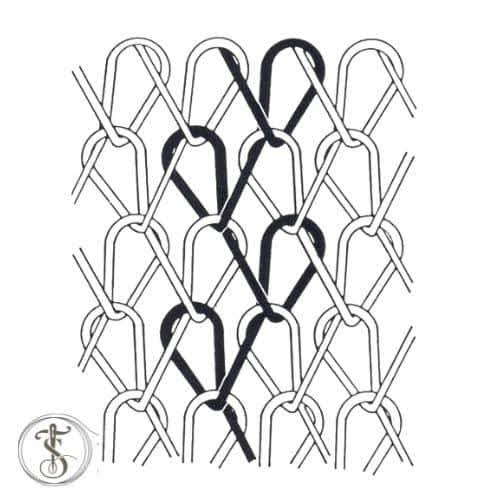 In the tricot knit, two parallel lines of yarn are interloped. As the loops have been formed in roughly the warp direction. That produces a lightweight run-resistant tricot with a remarkable amount of stretch. This special method of construction ultimately creates a tricot fabric with several unique characteristics.
Tricot Fabric Characteristics
Strong and lightweight.

Makes light fabric weighing less than 4 ounces per square yard.

Renowned for being a stable textile.

Soft, wrinkle-resistant, and has good drapability.

Doesn't unravel or ladder, it's normally stretchy and comfortable.

Used for a wide variety of fabric designs and weights.

Very low-cost fabric due to its production strategies.

Tricot knitting technology

is more practical that can be made with different sizes, shapes, and patterns.

Stable in shape, no need for any special treatment.

The manufacturer could be using different

thicknesses of yarn

. Through tricot, weft insertion machines to form simple patterns alternate and different styles of eyelet texture.

High production efficiency about 98%

The highest production speed could reach 3600rpm and fabric width 210 inches.

Good property to avoid loops knocking over and straggling.

Using different construction reduces the knocking-over phenomenon caused by yarn breaking and holes.

Smaller extension compared with weft fabric.

Doesn't build up a static charge or cling to the body. Therefore, tricot-made apparel ensured comfortability to the wearer. such as

Underwear, pantyhose, seamless tights, and gloves could be produced with tricot fabric.
Tricot Fabric Uses:
Tricots are made with different fibres including a blend of synthetic and natural. Therefore, it has countless options for apparel made with tricots. Tricot warp knitted construction and close-knit, provide a sturdy fabric property, hard-wearing, though comfortable to handle. It's helpful to produce closely fitting comfort stretch items, such as
Sportswear, swimwear, lingerie, inner garments, and even some special types of outerwear.

Combination with its stability and stretch makes the tricot the best choice for

backing fabrics for different kinds of laminate fabrics, lining, and pocketing.

Tricot fabrics came with a good level of

day-to-day wear

and tear during any activity. This makes tricot a unique fabric for close-fitting comfort stretch clothing,

such as different undergarments as well as outerwear

.

Comes in a variety of colours and patterns. Comforting finishes and supportive tricots make them a good choice for use in the

making of lingerie and underwear, especially for women.
Dimensionally stable and not running. Consequently, it has numerous industrial applications, including base material for coating and laminating, automotive seating, and so on.