Muslin, a versatile fabric, often was considered worth the same as gold. Historically rich and diversified fabric ever produced in human history. The word muslin has lost all connections to the handwoven fabric with its royalty, once that came exclusively from Bangla. In 1850, Dhaka muslin's last exhibition was arranged in London.
After that muslin fabric weavers were lost because of British-ruller brutality to the producer when it was widely exported to the western countries. 170 years later, recently the traditional Dhaka muslin got GI certification. It is said that a whole Dhakai muslin saree melts through the ring. Let's know about the amazing fabric with its rich history.
Table Of Contents
What is Muslin Fabric?
Muslin is a finely woven royal fabric. It is one of the world's oldest cotton weave fabrics. The word muslin is derived from mosul (Bengla term is 'mul mul'), Marco Polo's description of the cotton trade in Mosul In. Mosul was one of the most famous business centers in Iraq. The very fine fabric was made in Mosul. But in terms of muslin, it indicates the Dhakai muslin, a fabric that was produced in and around Dhaka at that time.
What Is Muslin Fabric Made Of?
Muslin fabric is made from a special kind of karpas cotton known as 'phuti' cotton. It is very loosely woven cotton fabric. Muslin fabric is made by using the plain weave technique. That means a single weft yarn alternates over and under the single warp yarn. The specialty of muslin comes from its yarn count; it needs a fiber count of at least 300. It is said that the garments made of muslin were so delicate that a 50-meter-long muslin fabric could be packed in a matchbox. The weaver skills, humid environment and puhti karpas pants are the most important issues in producing muslin fabric.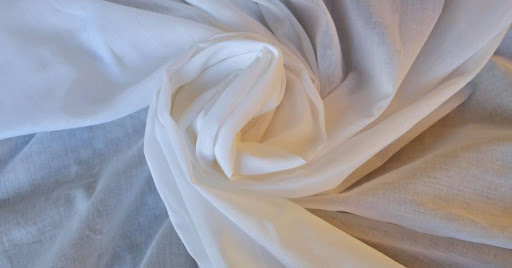 Phuti cotton is a native plant grown in Dhaka on the bank of the Meghna river. If you want to make muslin fabric you have to put carpus fibre, expert weaver and also the humid environment around Dhaka. Despite multiple attempts to weave muslin, each attempt to produce photo carpus elsewhere failed.
Muslin originated in Dhaka, Bangladesh. Recently, the Bangladesh government took the necessary steps to recover its uniqueness. Recently, Bangladeshi Muslin Saree secured its geographical indication (GI) certification.
Besides Bangladesh, muslin is produced in West Bengal, India. Once muslin fabric was lost during British colonial rule in the Indian subcontinent. Due to the ruler's brutality, weavers were forced to stop producing muslin when muslin was the most exported fabric in the western. It could be a rumor but often said in native that the British cut off the thumbs of the weavers so that the weavers couldn't make muslin anymore. Consequently, the producer of muslin and phuti carpus plants was lost with its royalty. But in the time of independence of the Indian subcontinent, Gandhi started spinning yarn himself to make khadi, also a type of muslin fabric.
Types of Muslin
Once several types of muslin were produced in Bangla at least 28 types were available in the period of British colonial. Some popular types of muslin are as follows:
Gauze:

Gauze is an ultra-lightweight muslin fabric. It's used as a filter in the kitchen, and to dress wounds.

Mull:

Mull is a lightweight plain muslin fabric. It's usually made from cotton and silk. But sometimes made in viscose also.

Mal - Mal Khash:

The word mal – mal khash comes from Mal-bush Khash; which means special clothing. A finer muslin was designated apparel for the Emperor and his family. It was specially made for their use.

Jhuna:

Jhuna is another type of muslin that is similar to gauze muslin. It's highly preferred by dancers. The word Jhuna is derived from a Hindi word "Jhina" which refers to "thin." Juna was always popular amongst harem members as well as the wives.

Rongo:

Rango was similar to the Jhuna muslin. But it has a more specific quality than the gauze muslin. Rango has a low thread number and is approximately 1/2 times heavier than Mal-Mal Khas muslin.

Abrawan:

The word abrawan is derived from two Farsi words. These mean 'water' & 'flow'. Abrawan muslin was extremely thin and delicate. This is why it's compared with the flowing water.

Khassa:

Khassa muslin was plain, very thin, and finer fabric. The Khassa is famous for its thicker weave that contained a yarn count of 1400 to 2800. Khassa muslin was first described in Ain-i-Akbari; the book written by Abu'l-Fazl ibn Mubarak.

Shubnam:

Shubnam was a Hindi derived word that means 'morning dew'. It had a yarn count from 700-1400. Such a fine muslin, if the fabric laid on the grass to be dried, none could hardly differentiate between it and the dew.

Alaballee:

The alaballee refers to 'very fine' according to the weavers. It was a closely textured muslin. It described as 'abollai' in the "Sequel to the Periplus of the Erythian Sea." It was quite heavier compared to the others with yarn number of 1100-1900 and

Tanzeb:

Tanzeb means 'body & ornament' which is also derived from Farsi word. It was a light and plain muslin, a count of 800-1900.

Taranddam:

Taranddam was plain muslin fabric yarn count from 1000-2700. It comes from the Arabic word 'turuh' and the Farsi word 'anddam'; combinedly meant a kind of cloth for the body.

Nyansookh:

Nyansookh is a particular kind of muslin that brought pleasure to the eye.

'Ain-e-Akbare'

, the book, discussed the use of Nyansookh. It was a very thin fabric with a yarn number from 2200-2700 and used as a neckerchief.

Buddun-Khash:

Buddun means body and khash means special. The combined meaning is self-explanatory. It was of very fine cloth with a yarn count of 2200. Buddun-Khash muslin was used to make garments in a wealthy family.

Surbund:

Sunbund derives from Farsi words 'sur' and 'bund'. That means "head" and "tie." Surbund muslin was used for head attire such as: turbans.

Dooria:

The word dooria, derived from the word Dorakata, was a special type of stripped muslin. It was produced by twisting two or more yarns on the loop and using three parts cotton and two parts silk. Dooria muslin was made from 'bhoga' and 'sironj' cotton within a yarn number from 1500-2100.

Charkona:

It was a square checkerboard type designed Muslin. Charkona and Dooria were very similar in length. But in weight yarn numbers with the significant difference. Dooria was striped whereas Charkoa had a square-shaped design in the four corners.

Kamis:

Kamis is a popular dress named for women. But it indicated special types of muslin. The word Kamis derived from the Arabic word Kamis which means a dress. It used to make kurtas. Kami's muslin was very plain and had a yarn number of 1400.

Jamdani:

Jamdani is the most popular known muslin. The woven motifs were commonly known as Jamdani. The word Jamdani came from two words 'Jam' meant flowers and 'dani' meant a container. Thus, jamdani means forming a flower vase of sorts. Jamdani is a very versatile and extremely expensive muslin fabric. A few years ago, Jamdani fabric got GI certification from Bangladeshi weavers.
What Is Muslin Fabric Used For?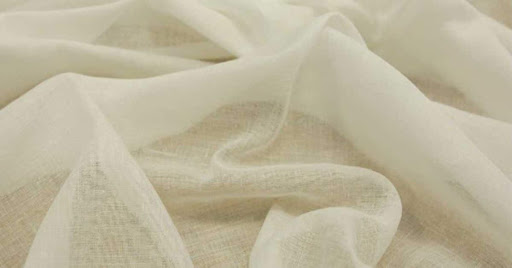 Muslin fabric is used mostly in today's royal fashion industry. It is an extremely versatile fabric used for everything from theatre to the fashion industry. Here is some example of muslin versatility used for:
Fashion designers use muslin most frequently in sewing and pattern-making to test new patterns.

Some Fashion designers make a replica in muslin first to make sure the fit and drape are correct.

Lightweight muslin fabric is used to produce curtains and towels.

In the

milk industry muslin is used in cheese-making

through a muslin bag to separate the liquid whey from the cheese curd.

Doctors use Gauze-made fabric in cerebrovascular neurosurgery.

Often muslin is wrapped around steamed desserts such as Christmas pudding.

Muslin used to make reusable tea bags.

Matched muslin handmade curtains are used in the luxurious lifestyle.

Photographers use muslin for backdrops.

Stage designers use black muslin for backdrops, masking curtains, and stage cycloramas.

Muslin is used to produce the most luxurious and comfortable bed sheets.

Gifts wrapped in muslins are quite popular.

Making loungewear and innerwear.

Produce Bath accessories and washcloths.

For making embroidery designs and so on.