Canvas fabric is very well-known for its durability and stiffer structure. Once canvas fabric was used in making tents, boat sails, and other utilitarian products. But nowadays canvas has expanded into other products like sports gear, sneakers, and backpacks thanks to its extreme durability. So, let's start to know about the durable fabric called canvas.
What is canvas fabric?
Canvas is a tightly woven plain fabric. It's usually made with cotton and to some extent produced with linen. Historically it was originally woven with hemp instead of cotton but nowadays it's made of synthetic fiber like polyester.
Table Of Contents
Even the word canvas comes from the Latin word 'cannabis', which refers to 'made of hemp'. But canvas could be used to blend with other synthetic fibers. Canvas could be used to blend with other synthetic fibers that become water and resistant or even waterproof fabric. Synthetic and blended Canvas fabric is commonly used in outdoor gears.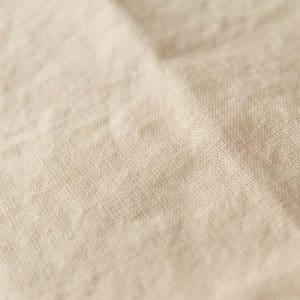 How is Canvas Fabric Made of?
Yarn Production:

Firstly, manufacturers create canvas yarn using the rougher fibrous part of cotton, linen, and hemp plants.

Weaving:

Next the weaving takes which produces the canvas fabric. It's produced by tightly weaving cotton yarns together in a plain weave.

Finishes:

Then polyvinyl chloride (PVC) layers are often applied to the outer surface of the fabric to increase its durability.

Printing Processes:

Lastly, the fabric is stretched around a wooden frame before gesso is applied.
Types of canvas fabric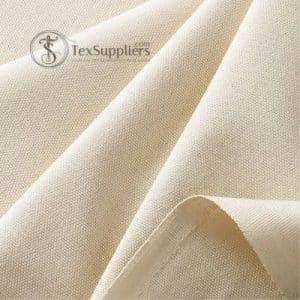 Plain Canvas: Plain canvas consists of rough, wide fibers with a relatively loose weave. It has a yarn count between 50 to 100. Plain canvas is the most appropriate in the industry. Though it has rough hand feelings and would be abrasive when worn against the skin.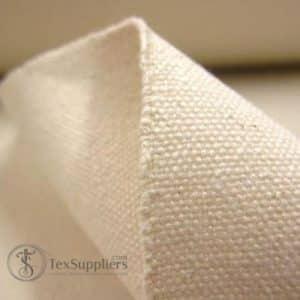 Duck Canvas: Duck canvas is featured with a thinner yarn composition. Besides a closer weave that has a smoother hand feel. It is the heaviest grade of cotton canvas. The Duck canvas is derived from the Dutch word for canvas: 'doek'. That means a typical fabric is made with twice yarn as much fiber going in one direction as compared with the other direction.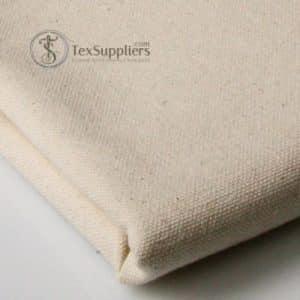 Cotton Canvas: Cotton canvas is more popular than any other canvas fabric due to its significantly cheaper and could be diversified with the market demand. It's very fluffier, stretcher, and smoother compared to hemp and linen. Cotton canvas has a different diagonal woven that contains a series of parallel diagonal ribs. It produces a diagonal texture on one side, smoother on the other.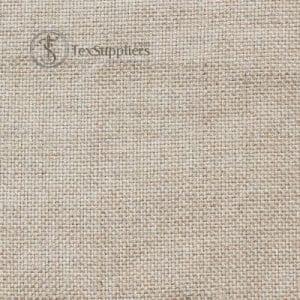 Linen Canvas: Linen is a popular and expensive canvas for its rigid durability. Linen fibers came from the flax plant. Harvesting the flax and producing linen canvas is a laborious job. That's why linen canvas is produced most in Western Europe. Linen canvas is used for art purposes, many established artists choose this canvas for several reasons. Such, it often lasts longer than a cotton canvas, providing a stronger, smoother feature.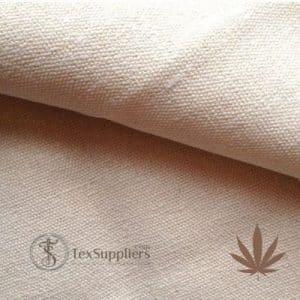 Hemp Canvas: Hemp is the most durable material manufacturer can use to produce canvas. But hemp is used to manufacture cannabis, a kind of drug, many countries restrict the harvesting and manufacturing of hemp. But once canvas fabric was only made from hemp and linen. Now, cotton is used to produce most of the canvas fabric instead of hemp.
Polyester Canvas: Polyester canvas is a versatile synthetic plain fabric made from 100% polyester. It is much more durable than regular canvas that's why poly canvas is widely used in home decor projects and outdoor gears. Polyester canvas is to make water resistant due to its hydrophobic characteristics.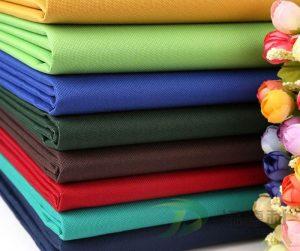 TC/CVC Canvas: TC/CVC canvas is a blend of cotton and polyester where polyester content is more in TC and cotton content is more in CVC. Blended canvas is mostly used in workwear and home textile due to its tear-resistant and flame-resistant characteristics.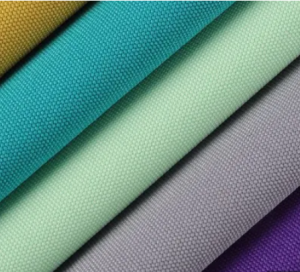 Besides the mainstream canvas fabric, there are kinds of finished coated canvas fabric. Which is used for special purposes. They are as follows:
Fire-proof canvas.

Waterproof

canvas.

Water-resistant canvas.

Dyed canvas.

Printed canvas.

Stripe canvas, and so on.
Properties
Provide naturally creamy white color.

Low fabric breathability.

Absorbent Fabric.

High moisture-wicking abilities.

Wrinkle easily and don't recover well from wrinkling.

Low Prone to pilling.

Having high heat retention abilities.

Flexible & Low luster qualities.

Low elongation & Elastic recovery.

Conducts electricity, but doesn't build up static electrical charges.

Resistance to microorganisms and insects

Shows better resistance to sunlight.
Application of Canvas Fabric:
Bags: Heavy canvas is most commonly used in making bags. Synthetic waterproof canvas is very suitable for making waterproof backpacking.
Outdoor Gears: Many outdoor gears like tents, tarps, sails, and other camping materials are made with heavy canvas.
Clothing: Most heavy-duty workwear like pants and jackets are made with canvas fabric.
Upholstery coverings: Waterproof canvas also used as coverings in many industries including automotive, military, and construction site.
Art supplies: The application of canvas in paintings is very popular for ages.
Shoes: One of the most common applications of canvas fabric is in footwear industry. Thanks to its durability and flexibility, shoes like converse sneakers are made with canvas.