What is Voile Fabric?
Voile is a soft as well as a light-weight fabric that is manufactured using 100% cotton materials or cotton blend with polyester or linen. This fabric features more thread count than usual cotton fabric, which makes it silkier and softer. It comes in a variety of patterns and colors.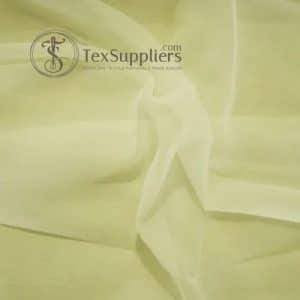 Table Of Contents
Because of their semi-transparent nature, voile curtains are produced using leading tape and are less visible through the cloth. The Voile fabric is ideal for summer dressmaking since it is soft, light-weight, comfortable, and semi-sheer. Since they fall into fine folds suitable for scarf garlands, they are often used as window dressings.
What is Voile Fabric Made of?
Voile is a soft, light, simple woven fabric often made of 100 percent cotton or cotton blend. Most of the voile fabrics are made from natural fibers such as 100% cotton. Some voile fabrics are available on textile platforms made of man-made fibers such as polyester. It is also produced by mixing linen or polyester with cotton.
How is it made?
High-twist yarns are used in the manufacture of voile fabric. These fibers are twisted more often than regular yarns but still less than crepes yarns. Then spherical single fibers are made, which are then twisted, creating two-fold fibers.
Two individual fibers are plied in the same twist orientation to manufacture this two-fold fiber, which produces a firm, strong yarn that is then woven in an accessible weave to produce the fabric.
Properties
| | |
| --- | --- |
| Fabric Name | Voile Fabric |
| Fabric Materials | Cotton & Cotton blend with linen or polyester |
| Thread Count | Higher than Cotton |
| Fabric Breathability | High |
| Fabric Stretchability | No |
| Draping ability | Average |
| Fabric Durability | Excellent |
| Overall Weight | Lightweight |
| Ironing Temperature | Low |
| Washing Process | Normal or cold Water |
| Used in | Summer dress, Sundress, Shirts, tunics, blouses, upholstery and décor |
Types of Voile Fabric
Cotton Voile: Cotton voile is a kind of voile fabric made of 100% cotton fabric. Cotton voile is excellently breathable, light-weight, and also semi-sheer fabric. This type of voile is ideal for summer dress manufacturing.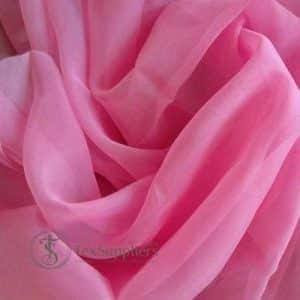 Polyester voile: The voile fabric that is made of 100% polyester is polyester voile fabric. Polyester voile fabric is soft and smooth and also provides comfort. The fabric is primarily utilized in soft furnishings due to its lightweight.
Synthetic voile: Synthetic voile is manufactured from substances like wood or hydrocarbons, making it durable and sturdy. These fabrics absorb colors better without sacrificing their appearance. As a result, they're frequently utilized to make colorful scarf swags.
Characteristics
Plain Weave Production: Voile is weaved in a grid pattern, with horizontally threads crossing mostly under vertical fibers. The shuttle method is used to create this fabric, in which the yarn is pushed throughout the entire operation.
Smooth Finish: Voile fabric has a smooth and soft matte finish produced by glowing brightly any superfluous fibers that protrude from the surface. The majority of voile textiles are made using plain pattern weave.
Light-weight fabric: Voile is a lightweight fabric that features a wiry or comfortable feel due to the tight fibers. It is not only lightweight fabric but also excellently breathable as well as comfortable.
High Thread Count: Voile fabric tends to have more thread count as well as excellent weave than usual cotton fabrics. These functionalities make this fiber softer and also smoother.
Crisp Appearance: The fibers are combing slightly to provide the cloth with a faint gloss and firmness. This process gives all voile garments their transparent, crisp appearance, which is similar to organdy.
Applications
Voile fabric is used to make various kinds of applications. Such as:
Cotton voile and Polyester voile these fabrics are suitable to manufacture various apparel like

shirts, Tunics, Blouses, etc

.

Cotton voile is used to produce

various summer dresses.
Printed cotton voile is best for upholstery and décor.